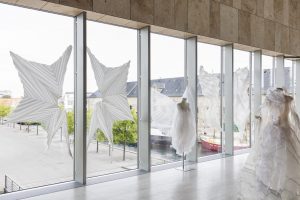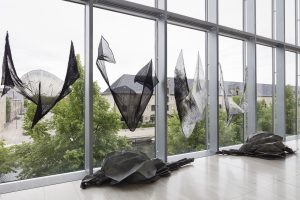 "The PleatFarm" is an artistic research of the dialogue with the materiale and an investigation of the nature inside the material.
The project experiments with geometry in a volumetric scale that relate to or is lager than the human body and with folding techniques in the objects – with repetition and scale differences in the folds. It is a investigation and a search for the inner shape of the material – the artefact within the material.
"The PleatFarm" is also an investigation of the dialogue between the artefact and the movement of the human body. What happens when the body interacts with the artefact? What occurs when insisting on searching for qualities of movements from inside the artifact? Which a character occur?
Charlotte Østergaards kunstneriske virke befinder sig i spændingsfeltet mellem kostume-, beklædnings- og tekstildesign.  The PleatFarm er en viderudvikling af  passionen for plissering teknikker (som var kendetegnet for kollektionen Charlotte Østergaard Copenhagen). Teknikker som forvandler et to-dimensionalt materiale til at blive en tre-dimensional bevægelse form.
The Pleatfarm er et ønske om at undersøge kroppens rum og rummet omkring kroppen.  En viderudvikling og eksperimentering med pisserings teknikker som i skala forholder sig til rummet omkring kroppen; dels det helt tætte rum omkring kroppen men også rummet udenfor kroppen.
Ud over de skulpturelle objekter, er videorne  "The Duet", "Dadalouge" og "The PleatFarm" med soundscapes af komponist Hans Sydow en del af projektet.