Velkommen til Charlotte Østergaards univers
Her på sitet kan du få et indblik i min foldede verden. Vil du følge mine kunstneriske aktiviteter kan du enten følge med på bloggen eller tilmelde dig mit nyhedsbrev.
God fornøjelse –  Charlotte Østergaard
Charlotte Østergaard is a visual artist working in between costume, fashion and textile objects. The last 23 years she has worked with the body as a cultural and artistic expression. Charlotte has received several grants from the Danish Art Foundation and has exhibited at curated national and international exhibitions. From 1999 to 2014 Charlotte designed the fashion collection Charlotte Østergaard Copenhagen – a collection based on a passion for pleating techniques. Techniques which transforms two-dimensional material into three-dimensional moveable shapes/forms/clothing.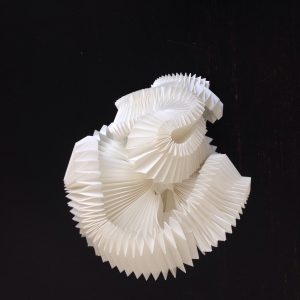 ---
Aktuelle aktiviteter
læs yderligere  under aktuelle aktiviteter:
2019
Performance "Traces of Tissue",  Site Specific Performance Festival at Prague Quadrennial 2019.
2018
d. 15 okt – 15 nov deltager jeg med 3 tekstilobjekter på "From Lausanne to Beijing" The 10th International Fiber Art Biennale i Kina
d. 13 okt – 25 nov 2018 deltager jeg med 3 værker på udstillingen "World of Threads Festival" i Oakville, Ontario, Canada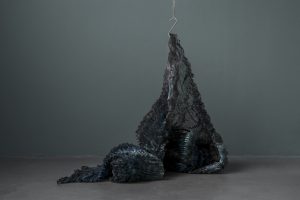 d. 29 sep – 12 okt. 2018 kostumedesign til danseforestillingen AI-AI-AI hos Åben Dans
d. 17-19 Juli 2018 præsenterer jeg  mit kunstneriske udviklings projekt på Den Danske Scenekunstskole med paper'en  'In Dialogue with Material' på konferencen 'Fashion, Costume and Visual Cultures' på the University of Zagreb i Kroatien
d. 9 – 13 Juli 2018 deltager jeg i 'The Theatre and Migration – Theatre, Nation and Identity: Between Migration and Stasis' IFTR World Congress på Faculty of Dramatic Arts, University of Arts, Beograd, Serbien. Her vil jeg bl.a. præsenterer mit kunstneriske udviklings projekt på Den Danske Scenekunstskole i form at paper'en "Disconnect – Reconnect" .
d. 29 maj – 15 Juni 2018 udstiller jeg  på:  The 12th International Biennial of Contemporary Textile Art "Scythia" i Ukraine
d. 4 maj 2018  er der  Re-premiere på Butterfly Lovers på Pantomimeteateret. Se spilledagene her
6. – 20. april 2018 deltager jeg i udstillingen 'Det første møde' i korttidssalonen i Saxogade 92, København V
Januar 2018 residence ophold sammen med Sally E. Dean på Hawkwood Artist Residency i England
GemGem
GemGem