Charlotte Østergaard is a visual artist working in between costume, fashion and textile objects. The last 23 years she has worked with the body as a cultural and artistic expression. Charlotte has received several grants from the Danish Art Foundation and has exhibited at curated national and international exhibitions. From 1999 to 2014 Charlotte designed the fashion collection Charlotte Østergaard Copenhagen – a collection based on a passion for pleating techniques. Techniques which transforms two-dimensional material into three-dimensional moveable shapes/forms/clothing.
---
Aktuelle aktiviteter
læs yderligere  under aktuelle aktiviteter:
2019
12. juli 2019 Premiere på nyt værk af koreograf Paul Jame Rooney med kostumer af Charlotte Østergaard på Pantomimeteateret i Tivoli
15. juni 2019 workshop på Prague Quadrennial
10. – 14. juni 2019 Performance "Traces of Tissue",  Site Specific Performance Festival at Prague Quadrennial 2019.
4. juni – 31. august 2019 deltager på den censurerede udstilling INNOVATIVE COSTUME of the 21st CENTURY: THE NEXT GENERATION, A.A. Bakhrushin State Central Theatre Museum, Moskva, Rusland
11. Maj – 23. Juni 2019 deltagelse på den censurerede udstilling "Is it Colour?", Rundetårn, København
18. april – 5. maj 2019 deltager jeg med værket "AweAre" på Biennalen for Kunsthåndværk & Design, Nordatlantens Brygge, København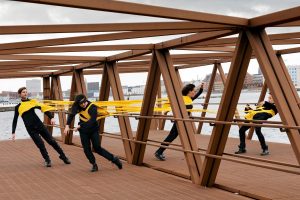 2., 8.-10., 12. marts 2019 "Korea Connection" på Skånes Dansteater i Malmö designer jeg kostumer til en af aftenens 3 værker med koreografi af den koreanske koreograf Hyerim Jang
14. og 15. jan 2019 præsentation af kunstnerisk udviklingsprojekt "Dialogen med Materialet – om fysikalitet i designprocessen" på Den Danske Scenekunstskole
GemGem
GemGem