Charlotte Østergaard is a danish costume-, textile- and fashiondesigner who over the last 20 years has worked as an independent artist. The main focus in all of Charlotte's artistic work is a fascination for the body as a cultural and artistic expression.
Charlotte Østergaard has designed costumes more than 50 contemporary dance performances for numerous contemporary dance companies and independent choreographers in Denmark and abroad, several of which has revised theater awards.
Charlotte Østergaard has received several grants from the Danish Art Foundation and has exhibited at juried national and international exhibitions.
From 1999-2014 Charlotte designed the collection Charlotte Østergaard Copenhagen (CØC). In the periode 2006-2014 the studio and store of CØC was in the center of Copenhagen. The collection consisted of thematic series grounded in the crafts tradition where series of products are continuously developed.
Charlotte Østergaard is an experienced teacher in costume, fashion and textile formfixation techniques. In 2015 she was employed at the Danish National School of Performing Arts (DDSKS). At DDSKS Charlotte is currently developing an artistic research on the costume design process.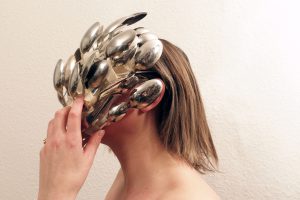 EDUCATION
1990-1995 Designskolen Kolding, Denmark – Fashion design
GRANTS and ARTISTIC RESEARCH
2018 artistic research funding from the Danish Cultural Ministry
2016, 2015, 2014, 2012, 2010 artistic work grand from the Danish Art Foundation
2016-2017, 2013-2015 artistic research at the Danish National School of Performing Arts
1999 work grand from Nationalbankens Jubilæumsfond af 1968
1999 Kunsthåndværkerprisen af 1879, bronze Medal
REPRESENTED IN COLLECIONS
2013 Design Museum Denmark: unique pleated dress from the CØC collection
2010 National Gallery of Denmark: Wilhelm Freddie costume designs
SELECTED EXHIBITIONS
2017 "The PleatFarm", Takkeloftet, the Operahouse in Copenhagen
2017 "Wearable Expressions International Juried Exhibition of Wearable Art 2017", USA
2016 "World of Threads Festival – International Contemporary Fibre Art", Canada
2016 "From Lausanne To Beijing – International Fiber Art Biennale", Kina
2016 "The making of the costumes for Black Diamond", The Kennedy Center, Washington DC, USA
2009 National Gallery of Denmark and KUNSTEN Aalborg; Wilhelm Freddie costume design
COSTUME DESIGN for AWARD WINNING PERFORMANCES
2017 'Butterfly Lovers'; The Pantomime theater – dance performance of the season 2016/17, CPH Culture
2017 "Treben", Åben dans – Reumert nominated;  children and young performance
2014 "HANe og HUNd", Åbendans – Reumert nominated; children and young performance
2016 "7EVEN", Black Box Dance Company – Reumert nominated; dance performance
2014 "HANe og HUNd", Åbendans – Reumert nominated; children and young performance
2013 "Dilemma of Obidience", Dansk Danseteater – Reumert nominated; dance performance
2012 "Drift", X-Act/Kitt Johnson – Reumert nominated; dance performance
2012 "Love Songs", Dansk Danseteater – Reumert nominated;  dance performance
2009 "Frost", Dansk Danseteater – Reumert prize, dance performance of the year
2005 "Kridt", Nyt Dansk Danseteater – Reumert prize,  dance performance of the year
2002 "Spejlet eller det der ånder i skyggen", X-Act/Kitt Johnson – Reumert prize, dance performance of the year
COSTUMEDESIGN for more than 50 performances for among others for Danish Dance Company, Black Box Dance Company, Åben Dans, Odsherred Theater, dadadans.dk, X-Act, Pantomimeteateret, Rambert Dance Company, Det Unge Dansekompagni, Skånes Dansteater, Den Kungelige Svenske Opera, Den Norske Kongelige Ballet and the Danish National school of Performing Arts
and for the coreographers Kitt Johnson, Tim Rushton, Fotis Nicolau, Roberto Olivan, Edhem Jesenkovic, Selene Munoz, Camilla Stage, Marie Brolin-Tani, Kim Branndstrup, André Masquita, Helle Bach, Alessandro Sousa Pereira, Tina Tarpgaard og Martin Tulinius
The CHARLOTTE ØSTERGAARD COPENHAGEN (CØC) collection
2014 – precent Unique fashion made for private costumers only
2006 – 2014 own shop "Charlotte Østergaard Copenhagen" in the center of Copenhagen
2000 – 2006 member of design-collective "Designer Zoo" in Copenhagen
1999 CØC collection, first collections sold in stores in Denmark
ARTISTIC REASEARCH at The Danish National School of Performing Arts: 
2018 "A dialogue within materiality – about physicality in the costume design process"
Dec. 2016 – Nov. 2017 "Textile techniques as a potential for Costume Design"
April 2013 – Dec. 2015 "Stedsspecifikke iscenesættelser" (Site-specifik staging)
PERSENTATIONS AT INTERNATIONAL CONFRENCES:
2017 "The PleatFarm", Everything and everybody as material conference, Borås University, Sweden & at Culture Costume and Dress conference, Birmingham City University, UK
2016 "MASK", "Costume and Fashion in Context and Practice", University of Huddersfield, UK
2015 "Inside Out", "Critical Costume", Aalto University, Finland
ARTIST IN RESIDENCE
Jan 2018, Hawkwood Artist Residency, UK
Nov. 2014 – Mar. 2015,  Statens Værksteder for Kunst, DK
Jan. – Feb 2005, Statens Værksteder for Kunst, DK
ARTISTIC COLLABORATIONS: 
2018 – BETWIXT project WITH somatic dancer and choreographer  Sally E. Dean (USA/UK)
2016 – MASK project WITH  designer Jeppe Worning and photographer  Thomas Cato
2013 "SHELL" performance, concept in collaboration with Barbara Wilson
Kunstforeningen Gammel Strand; Copenhagen
2010 "FOLDING LIGHTS" performance, Designmuseum Denmark
Concept and costume design, collaboration with Danish Dance Theater and the lightning company LE KLINT
REPRECENTED IN THE BOOKS
Chapter in the antologhy "Kunstens poetik – om refleksionsbegrebet i kunstnerisk udviklingsvirksomhed" edited by Anne Gry Haugland, 2016
"Japanisme på dansk – Kunst og Design 1870-2010" by Mirjam Gelfer-Jørgensen, Arkitektens forlag 2015
"Tekstilkunst Danmark 1998-2008" by Annette Graa og Elis Hinz-berg, Borgen 2009