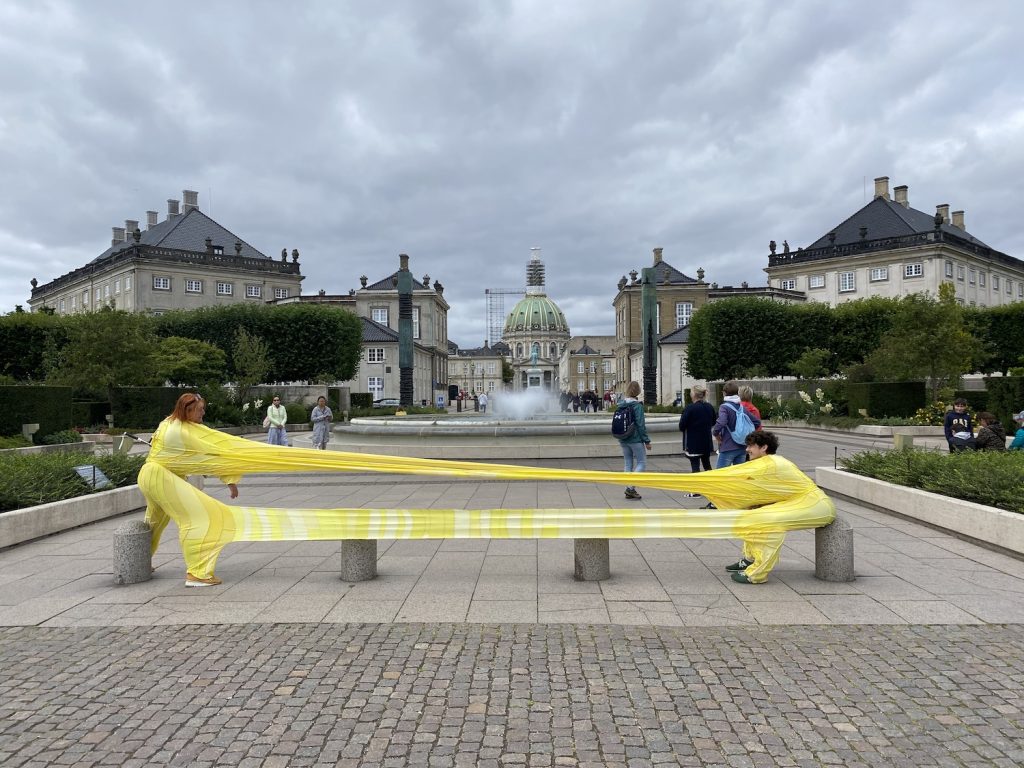 ---
---
Community Walk was a part of the festival Walking Copenhagen – a festival concept that Metropolis developed as a direct response to the pandemic/lockdown: over 100 days (starting May 1, 2020) 100 different artists walked for twelve hours in different areas of Copenhagen. Every artist was asked to live-stream on Facebook five-ten minutes each hour (in total each artist produced thirteen live-streams). Due to the pandemic (government regulations of public distance and assembly limitation) the live streams were the way that the public/audience could follow the festival.  
---
In Community Walk (July 30, 2020) I walked for twelve hours in the urban environment of central Copenhagen co-wearing a costume that connected me with twelve different participants. One hour with each participant. Community Walk became an beautiful co-costumed experience of 12 hours of embodied conversation about communities (fællesskab), 12 hours of following and leading, 12 hours of being connected, 12 hours of being approached, ignored, commented on, and yelled at, and 12 hours of moving in, reacting to and engaging with the city and the environment.
---
---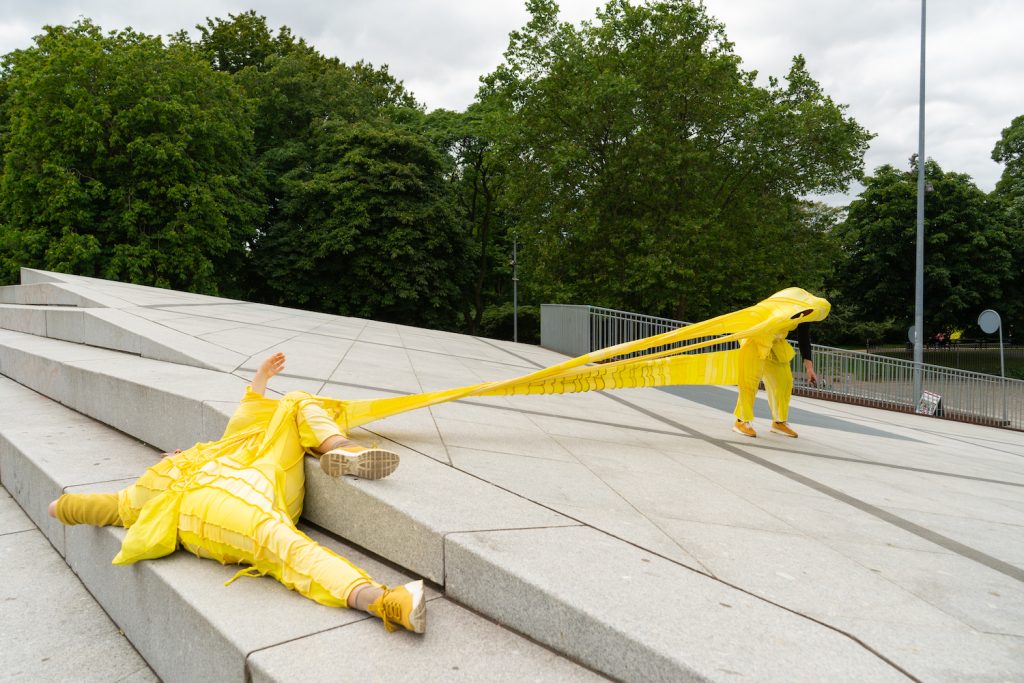 ---
Thanks to all the wonderful and inspiring participating artists: dancer/choreographer Daniel Jeremiah Persson, dancer Camille Marchadour, designer/photographer Agens Saaby Thomsen, actor Lars Gade, dancer /choreographer Tanya Rydell Montan, dancer/choreographer Julienne Doko, dance artist Anna Stamp Møller, dancer/choreographer Paul James Rooney, scenographer Aleksandra Lewon, dancer Josefine Ibsen, costume designer Jeppe Worning and visual artist/dancer Benjamin Skop
---
---
---
In the time of a pandemic, in a time where we are encouraged to keep distance, Community Walk studies how we create physical presence. How do we meet when familiar rituals such as handshakes and hugs are discouraged? How do we recognize each other's presence when we individually and collectively perform social control in fear of an invading hidden enemy?
Over 12 hours, I together with 12 guest explore the proximity and distance in communities, where 5 ritual and a costume are our common focal point. Every hour I meet a new guest in central area Copenhagen, from where we connected will walk towards the next guest. Each guest is invited to interpret the 5 rituals.
A yellow costume connects me and the participants, on at a time. Through the costume we explore how we can feel each other's presence. At the same time, we jointly navigate and negotiate how we can keep distance to each other and to others. Caused by places and people we pass in the city's environment, we reflect physically and verbally on the concept of community. What is the current state of communities – have our communities changed?
---
---
---
---
---
The 5 rituals:
Welcome ritual; Greeting nearby but at a distance
Undressing and Dressing Ritual; the costume is handed to the newcomer
Farewell ritual; Farewell to the previous guest
Testimony Ritual; as a knowledgement of the past hours conversation and of the embodied experience the departing guest shares reflections on the concept of community (live-streamed)
Walking ritual; Negotiation and navigation the costume, the by-passing spectators, and the environment
---
---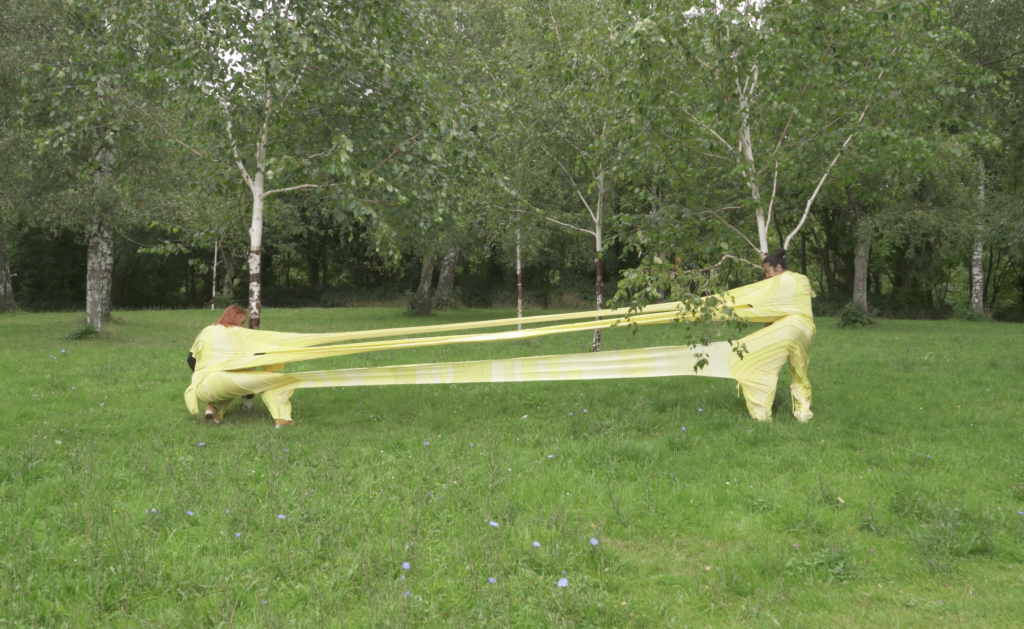 ---
---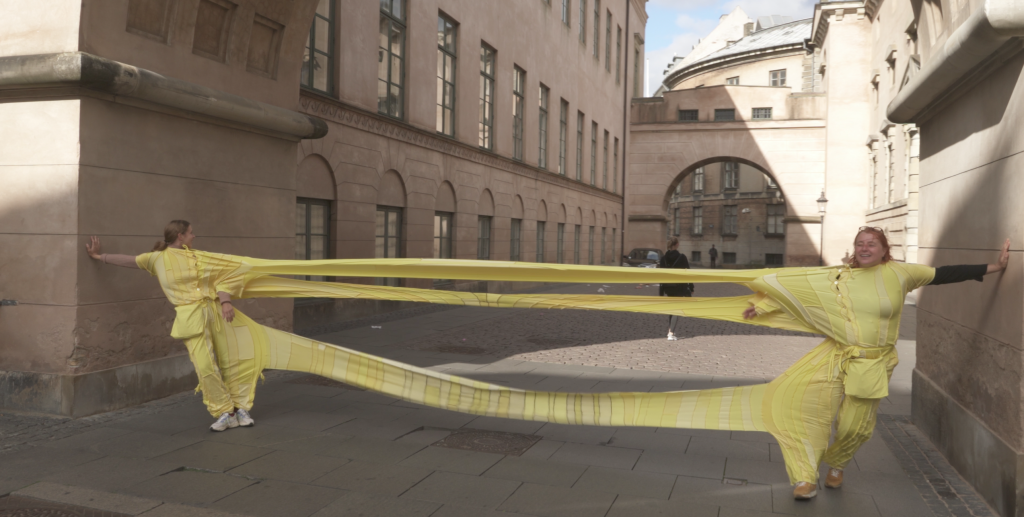 ---